CIAK movie screenings travel to Messolonghi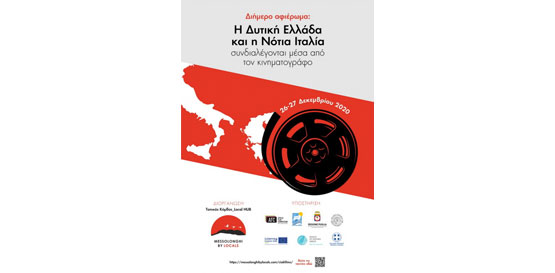 The two-day entitled tribute "The Italian South and Western Greece talk through the cinema" continues, giving the opportunity to the online followers of the "Local HUB" of the active community "Messolonghi by Locals", to watch the films of the CIAK project "Joint initiatives for the recognition and exploitation of the potential of tourism through cinema", which is implemented in the framework of the cross-border cooperation program Interreg VA Greece-Italy 2014-2020.
The CIAK films continue their cinematic journey on December 26 & 27, 2020 in Messolonghi, while they will be accessible for viewing nationwide as they will be screened online on the platform located at the email address: messolonghibylocals.com/ciakfilms/.
Online screenings of the films were preceded by the Region of Western Greece through the 23rd Olympia International Film Festival for Children and Youth in Ilia and Achaia through the KinoFest / December's Edition.
Etoloakarnania is ready for its own cinematic screening of CIAK short films through the local hub Local HUB and the Two-Day Tribute on the relevant platform of the NGO Messolonghi by Locals.
As part of the Interreg CIAK project, the Apulia Film Commission produced 10 short films. The action selected young creators from the Ionian Islands, Western Greece, Epirus, and Puglia, who were invited to create short fiction films based on common life of Greece and Italy. The final result emerged on the basis of a great teamwork, inspired by passion and dedication, within the broader context of cross-border and intercultural cooperation.
CIAK, among other actions, promotes the creation of a Film Office in the Region of Western Greece as well as specialized training with online seminars and workshops for local actors and the rest of stakeholders involved in the film process in the region.
By organizing events-screenings and supporting the local festivals, CIAK activates the local community of cinema professionals and enhance the network so that they will constitute the future human resources in productions that will choose to be shoot in the Region of Western Greece.